A few friends & I recently took a tour of a new cider maker in Richmond, VA — Blue Bee Cider. This is the first cider manufacturer within Richmond's city limits that I'm aware of.
Blue Bee Cider Location
Blue Bee Cider is located in the Old Manchester District, down behind the Corrugated Box Building & one block over from Legend Brewery. Their address is 212 W. 6th Street, Richmond, VA 23224. They're in the old Aragon building. Plenty of parking is available in their parking lot.
Blue Bee Cider Tour & Hours
Blue Bee's tasting room is open Friday, Saturday & Sunday from noon – 6pm. We took a tour of the facility, which is rather small, and considerably different from Legend's, if you've ever toured their brewery.
The tour took us about 20 minutes from start to finish, but we didn't have a ton of questions. If your group has the science nerd who insists on knowing about every chemical process, by-product & compound, I'm sure you could spend 45 minutes, easy.
Blue Bee Cider Owner & Cidermaker, Courtney Mailey
We were greeted with a smile as we entered, and sure enough, it was from the owner of Blue Bee Cider, Courtney Mailey. She's passionate about cider, and excited to finally bring a cider to Richmond.
Courtney gave us a history lesson about the Aragon building, poured us all a glass cider, and then gave us the tour of the building, explaining the cidermaking process along the way. She was super-nice, patient with our silly questions, and very knowledgable about the process. It's a quick, fun tour if you're looking for a way to spend your weekend afternoon in Richmond.
She has a few part-time cidermakers on staff, but said she's still barely keeping up with demand. They are selling out faster than they can produce it. But rest assured, they still have some available for you to try… and buy!
Blue Bee Cider Tastings & Prices
There is a small charge for tastings. Cider tastings are $1. For a glass of cider, it's $6. And for 3 bucks more, you can keep the glass. And trust me, $3 for this glass is a steal. They're fancypants, and might just make you feel like royalty.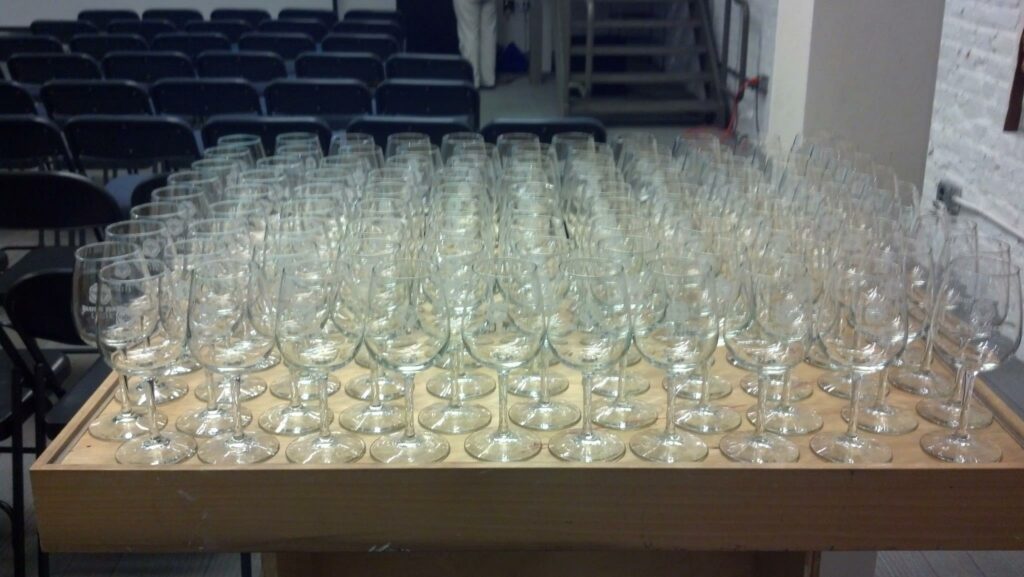 You can also buy bottles of cider in 500mL & 750mL sizes, as well as cider tasting glasses, gift certificates & apparel from their online store.
What's the cider taste like?
Blue Bee has 3 main ciders:
Charred Ordinary – A semi-sparkling cider, it's a dry, old-fashioned cider that pairs well with salty hams and other traditional Virginia fare.
Aragon 1904 – A semi-sparkling cider which includes a few modern apples to create a lighter, more fruit forward off-dry cider.
Harvest Ration – A dessert cider fortified with brandy distilled from our own special blend of bittersweet apples.
Today we tried the only cider they had available: Aragon 1904 (named after the building they bought). It tasted very much like a champagne or a white wine. It was very light & airy. Lots of carbonation. And 8.6% ABV, more than enough to get you warmed up for the tour.
Non-alcoholic Apple Cider (Juice)
Depending on the time of year, they also make non-alcoholic apple cider, or apple juice. This usually sells out in a few hours after they start offering it, so you have to be one of the first ones in line. Sign up for their email newsletter to get notified when it's on sale.
Apple Pomace for Fermenting & Compost
Do you like to ferment your own cider? Blue Bee Cider offers a pickup truckload of apple pomace from their facility for composting or animal feed during the apple pressing season – late summer to early winter. Apple pomace includes apple skins, pulp, seeds and stem remnants leftover after they squeeze the juice out of the apples. Contact them to find out when it's available.
Summary
I'd highly recommend you check out Blue Bee Cider. For right now, it's a one-of-a-kind experience within Richmond's city limits, as there are no other cidermakers in town. The staff is really friendly, the cider is tasty & the view of the city skyline is pretty fantastic from that part of town, too. Stop on over at Legend Brewery when you're finished with the tour to grab a bit to eat.
Check out Blue Bee Cider…
All photos courtesy of Blue Bee Cider's Facebook Page.