Each year on my birthday, I like to take some time to reflect on life. Not necessarily on the past 365 days, just on my life as it is at this very moment. Here are this year's thoughts.
Surrounded by awesome friends who care
Sure, when you're little, birthdays are about cake, parties & presents. Even as an adult, it's quite possible you still love all 3 of those things. But birthdays are no longer about that. They're about the awesome people in your life, regardless of whether cake is involved. (Hey! Vegan cake is delicious, too.)
I'd like to give a shout out to those people who took the time to reach out to me today. Some surprised me. Some reach out every year. But all of you are my friends, and I want to remind you how much I appreciate you.
Help me give clean water to those who need it
2 years ago, on this day in 2011, I raised $1,032 for clean water around the world. It just so happens that my birthday is on the same day as World Water Day. This is no coincidence.
If you can, please help me with a small donation to Charity Water to help bring clean water to the rest of the world. I'd like to thank the following people for their generous donations on my behalf:
Jennifer P.

Molly M.
Erika M.
Brian O.
Summer S.
Ryan S.
Ginny F.
Today was great
My day started off with an in-person greeting from my spinning class partner, Jamie. And even Gold's Gym got in on the action by playing the happy birthday song when I checked in.
I got a few nice text messages throughout the day. One from a more recent friend and my bachelor-watching buddy, Jennifer. She even offered to take me out this weekend to celebrate.
And another one from Victoria. She called me Warf. Very few people still call me Warf, especially women. Vic, you made my day. Thanks.
From there, Jenn (an Elon friend), my roommate James, Bikram Yoga buddy Maddie, and my sister Kim… all wished me a happy birthday.
My dad shot me an email to wish me happy birthday. I have a good relationship with my dad, but we don't send a lot of emails back and forth. Thanks Dad. That meant a lot.
I don't normally get excited about a Facebook wall post wishing me happy birthday, but this one was different. From a great friend, running buddy & all-around solid human being, Ginny said:
Someone recently told me that inspiring people are beautiful people. And they're absolutely correct. Happy Birthday to one of the most inspiring guys I know. Savor the moment!
That's a comment you don't forget. Thanks g. (and just a warning, when I see you tomorrow, big hug coming your way, so watch out)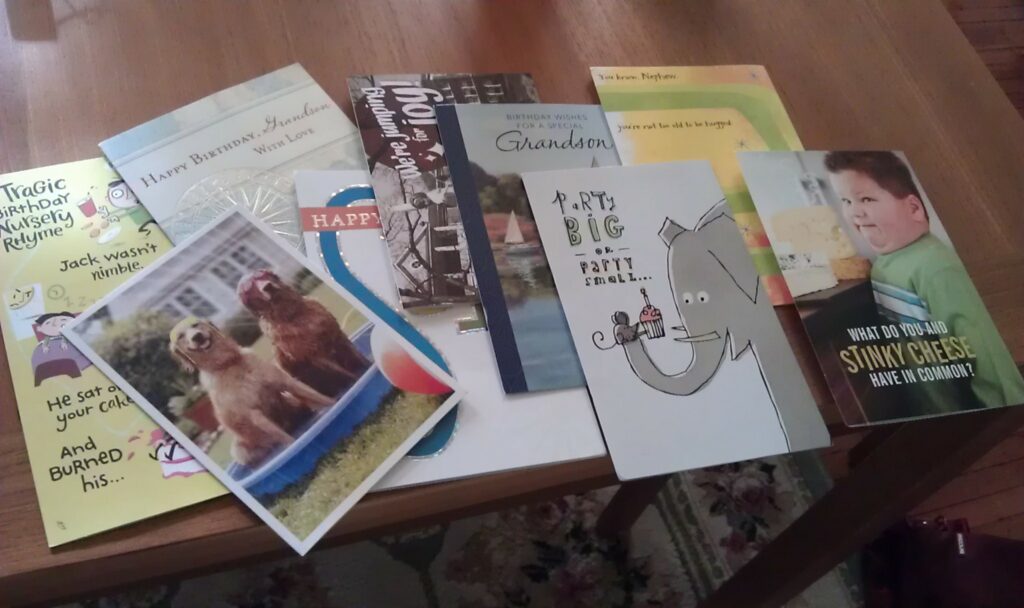 Switching from the electronic world to the old school paper card via snail mail, I received some great ones from Mom & Dad, sister Kim & brother-in-law Tony, Uncle Paul, Darcy & cousin Steve, Margie & Mike, Cush, Laura & Chloe, Grandmom, Mom-Mom & Fred, and even one from the Alumni office at Elon University (my alma mater).
I'd like to share the contents of a few of those cards. Clearly, they didn't just pick anything off the shelf.
Margie & Mike once again showed off their humor.
A tragic birthday nursery rhyme.
Jack wasn't nimble.
Jack wasn't quick.
He sat on your cake.
And burned his…
…corduroys.
Mom went short-and-sweet this year. (Are all moms this good at picking birthday cards?!)
Can't look at you
without feeling
a surge of pride.
Can't hear your voice
without smiling.
Can't remember
your growing-up years
without a little tug
at the heartstrings.
Can't let your birthday go by
without reminding you
how very much you're loved.
Mom-Mom & Fred said:
The world is before you,
full of challenges and adventures.
Hold your head high.
Be patient and persistent
in all that you do.
Find the good in others.
Be kind to yourself,
and always remember
the love you come from.
Be proud of you.
We sure are.
And Cush & Laura took this opportunity to capitalize on my recent veganism with a scratch-n-sniff card that smelled like stinky cheese.
What do you and stinky cheese have in common?
You both get better with age.
Even Google got in on the action. While they are a technological giant, who seemingly has an algorithm for everything, they managed (what I thought was) a nice, personal gesture.
Surprise! Let us take you out for some froyo.
As I was winding down my day, preparing to write some poetry, I got a surprise knock on the door. It was my next-door neighbors, Katie & Stephen. Not only are they fantastic neighbors, but they are 2 of the nicest people I have ever met.
They gave me no choice, really (which was a-okay with me), and said, "Come on. Let's go. Let us buy you some froyo for your birthday." We ended up with vegan cupcakes instead, but it was the thought (and conversation) that really mattered.
Life is all about the people you live it with
I'll be the first to admit that I haven't been the greatest socializer even since I graduated college. I've let work consume (and often control) my time, thus leaving me with less time to keep up with friends. It's taken a while for me to realize this, and I'm still working on it… but I realize it's something that definitely needs adjusted.
Life is only as good as the people we choose to live it with. And while work is necessary (because money is necessary), great friendships & quality time with awesome people is vital in living a happy life.
Here's to the great friendships I have. Creating even more memories with these awesome people. And meeting even more awesome, like-minded, good people for years to come.